Activities
There's Something for Everyone to Smile about on Fire Island!
Spending a summer or a few weeks of precious vacation time on Fire Island's sun-drenched beaches either in Fair Harbor, Dunewood or Lonelyville offers something for everyone. We like to say "We have one of everything!"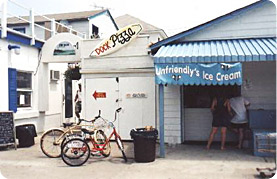 Fair Harbor Shopping and Dining
From pizza to pinot noir ... from pails and shovels to paper plates, Fair Harbor has all the amenities you need, and it's only a short walk from Dunewood and Lonelyville. All shops deliver for a fee right to your door.
A gourmet grocery store in Fair Harbor Fire Island with everything from fine breads, fresh mozzarella to the freshest seafood

A pizza shop

An ice cream shop

The Dock restaurant, offering some of the best food on Fire Island; and late-night dancing on Saturdays to the hottest music by the best DJs you'll find

A variety store offering everything from video rentals to hardware and children's toys

A liquor store stocking affordable wines and spirits

More Shopping and Dining
Just a quick (and fun!)
water taxi
ride from Fair Harbor or Dunewood is nearby Ocean Beach, the unofficial "capital" of Fire Island. Here you'll find:
Over a dozen restaurants to suit every taste and budget

Bars and discos open until 4:00 a.m.

Exciting nightlife, including movies and live concerts

Plenty of shops and boutiques

Excellent cultural activities, including art shows and an international film festival

Lifeguard-protected ocean and bay beaches

Seasonal and transient boat marina

Tennis, basketball and baseball facilities, and a bayfront playground

Memorial Day and July 4th parades and celebrations

Ferry service to Bay Shore

Medical and nursing services

A post office

Little red wagons to transport your belongings

Bicycle rentals

Fire Island's only elementary school (for middle school and high school, students must take the ferry to Bay Shore)

A 10-minute bike ride or water taxi to neighboring Kismet for lunch or dinner is always a special treat. You can dance until the wee hours of the morning on Friday or Saturday nights to some of the best local bands; and top it all off with Sunday dinner, live music and dancing at Surf's Out restaurant with its outdoor patio and beach.
Fun for Kids
Fire Island offers children a sense of independence that they cannot get anywhere else. The children's bay beach area in Fair Harbor offers a playground for the younger set. A lifeguard on this stretch of the Great South Bay Beach is on duty at all times. There are roped off areas and a swim platform. Swimming lessons are available for ages 2 and up. The playground with slides, swings and monkey-bars is adjacent to the bay beach area. Benches are provided to sit and relax.
On rainy days there are activities for the children in the Fair Harbor Fire House. Wednesday night is movie night with cartoons, a PG-rated film and - it wouldn't be movie night without popcorn!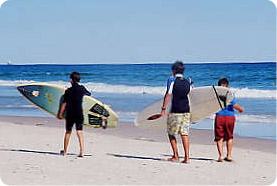 Beaches and Water Activities
Fair Harbor's beaches are the largest and best on Fire Island. You may bring your picnic lunch to the ocean beach or a cooler of iced drinks for the afternoon. Show off your athletic abilities with a rousing game of volleyball or paddleball ... or simply gaze out at the ocean and indulge your lazy side.
There is a windsurfing and a sailing club down at the bay where, for a nominal fee, you can store your boards, boats and equipment. There are public docking facilities, but moorings can be dropped in safe, protected areas.
If catching a delicious fresh fish for dinner is your wish, you can try your hand at casting off the bayfront docks for weakfish, blues or striped bass. The Great South Bay is known for its fine fishing. Feel like some baked clams tonight? Wade out into the shallows of the Great South Bay and put those toes to work! They're out there!
The Perfect Ending to a Perfect Day
Although there are no public docking facilities, going down to the Fair Harbor dock at sunset is almost as famous in Fair Harbor, Fire Island as in Key West. Couples, families, and singles gather there with a drink in hand to meet and talk, and of course, people-watch. After that, it's back to the deck and time to begin the evening's BBQ.
For a relaxed, easy, and fun time, it's Fair Harbor, Dunewood, and Lonelyville - the part of Fire Island to be in!